Easter is a bright holiday of joy and spring, and people wait for it hoping only the best. And so that, at least, the mood on this day is the best, it is crucial to choose inspiring decorations for the holiday.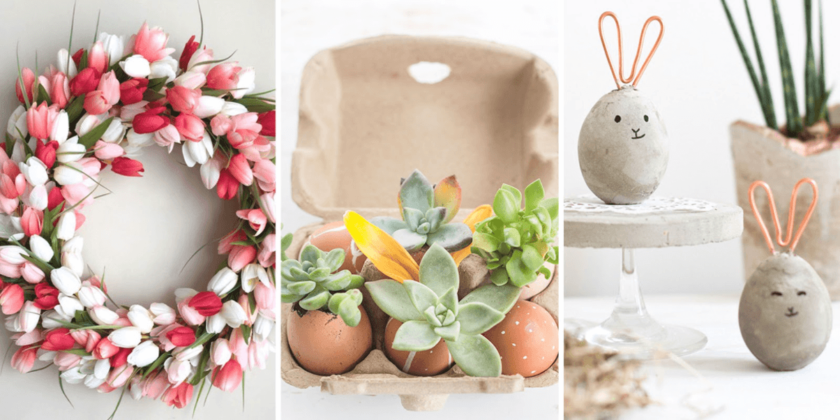 Just think of it: multicolored large latex balloons like these https://balloons.online/latex-balloons/large-latex-balloons/ can be turned into colorful Easter eggs floating in the air; you can create a DIY Easter tree from scrap materials, decorate the house with Easter baskets and fresh flowers, make Easter nests and eggshell candle holders… Unique Easter decoration ideas are everywhere, and now we'll help you choose the right direction!
 1. Air balloons
– Considering that the shape of the balloon almost perfectly resembles the shape of an egg, you can create multi-colored Easter eggs from helium balloons that beautifully float in the air above the table;
– using twisting latex balloons, you can create colorful Easter bunnies, or huge Easter baskets;
– you can create cute Easter rabbits from simple latex balloons by attaching eyes, neat paper ears to them, and tying the necks of balloons with elegant bow ties;
– using balloons, you can even create a unique decorative Bunny ears arch!
 2. Wreath
You can make beautiful wreaths yourself using:
– live flowers;
– dry twigs;
– wool or knitting yarn and artificial eggs.
Hang these Easter symbols on the walls or front door of your home and surprise your guests!
 3. Decorated eggs
Here it is, the most familiar and basic element of any Easter! There are many different options for decorating and coloring real and artificial eggs:
– staining with wax and paint;
– coloring with food dyes or acrylic paints;
– decoupage — decorating technique, based on attaching a drawing, painting, or ornament to an egg and then coating them with varnish;
– quilling — decorating eggs with strips of paper twisted into circles, various figures of different colors;
– beaded eggs (using beads, you can create amazing patterns on the surface of eggs);
– decorating eggs with fabric and lace.
 4. Easter tree
This hand-made product, traditional for many families, has its cultural roots in the Middle Ages. For creating it, you will need:
– a clay pot of a suitable shape;
– styrofoam;
– artificial moss and dry grass;
– wire for creating the tree.
This composition is complemented with seasonal flowers and twigs. Cover the tree with an adhesive binder and wrap it with a corrugated material (for example, woolen thread).
You can decorate a tree with:
– figurines of butterflies, birds, and animals;
– fresh flowers;
– decorative Easter eggs.
 5. Easter bunnies
This is another important symbol of the holiday. You can decorate the shelves, window sills, windows, and doors with figures of cute bunnies, cut out of paper and cardboard.
 6. Eggshell candle holders
Do not rush to throw away the shells from the used eggs: just a little effort — and you can make wonderful candle holders for decorating the table!
 7. Easter nests
Decorative bird nests will perfectly complement your Easter table. To do this, take dry grass or thin willow twigs and twist them into a circle. Add a decorative feather and dyed eggs inside.
 8. Easter basket alternative
Instead of a traditional wicker basket, you can use various materials, even paper egg cartons. Tie them up with ribbon or paint them!
 9. Flower arrangements
There are never too many flowers in spring: a delicate composition of spring primroses will instantly fill the house with a festive mood!
 10. Don't forget about decorating your windows
You can beautifully decorate your windows with colorful artificial Easter eggs of different sizes, hanging them on long ribbons. Using ribbons of different lengths will help you to create a nice and stylish decorative composition.