Oct 31
2017
10 Famous Art Masterpieces Lost in Second World War That Still Remain Missing
Amid all the chaos during World War II, art thieves and looters were taking advantage of the chaotic situation. Notable historians even claimed that Adolf Hitler encouraged the looting himself as he had a dream to build an extensive European Art museum under his rein.
German loot stored at Schlosskirche Ellingen, Bavaria (April 1945)
After the war the Fine Arts, and Archives program was established to return missing art-pieces to their rightful owners. Some of them have been located and returned. But unfortunately many still remain missing until this day. Below are 10 of the most important Art Masterpieces that are still on the missing list.
1. Raphael, Portrait of a Young Man, 1513/14

The biggest loss for Poland, the portrait belonged to Czartoryski's family. The painting`s location is updating on the rumors' level constantly. Currently there is information that it is kept in a Swiss bank vault.
2. Vincent van Gogh, Painter on His Way to Work, 1888

This piece cannot be returned anymore. After being stolen it was destroyed in the fire during bombing in Magdeburg, Germany.
3. Gustave Courbet, The Stone Breakers, 1849

Another painting that ceased to exist due to bombing. It was in the car along with other 154 masterpieces when it became bomb target.
4. Gustav Klimt, Philosophy, 1899-1907, ceiling panel for the Great Hall of Vienna University

Initially the painting was rejected by the commission in University of Vienna as it was considered inappropriate. Later the painting was bought by Klimt's friend Koloman Moser. In 1938 it was confiscated by the Nazis and by the end of the war Nazis burned it down along with other art pieces that were kept in Schloss Immendorf in order to prevent enemy from retrieving them.
5. Andreas Schlüter: The Amber Room, 18th Century

Hand-coloured photograph of the original Amber Room, 1931
Chamber made out of amber, gold mirrors and gems was made in Prussia for the Catherine Palace but disappeared during the war with no trace until today. Since 2003 it is possible to see the recreation of it.
6. Giovanni Bellini, Madonna with Child, c.1430

This masterpiece's last trace was left at Berlin-Friedrichshain flak tower where it was transported from Berlin Museum. There is a speculation that the painting was acquired by Russian troops, however, the flak tower had a bad reputation of all art-pieces being destroyed.
7. Gustav Klimt, Portrait of Trude Steiner, 1900

A portrait of the daughter of Viennese collector Jenny Steiner
The portrait was taken from the collector when he was trying to leave Austria. The painting was bought by person still unknown as well as the location of the portrait.
8. Rembrandt van Rijn, An Angel with Titus' Features

More than 300 artworks were stolen from France to move them to Hitler's European Art museum, however were lost on their way with no option to trace, with the painting above included.
9. Canaletto, Piazza Santa Margherita
It was stolen by the Nazis from Jacques Goudstikker and it has never returned to the initial holders' family.
10. Edgar Degas, Five Dancing Women (Ballerinas)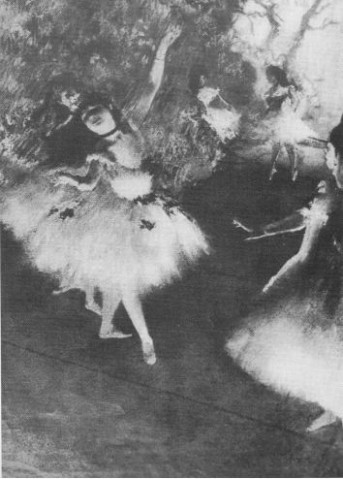 The painting was one among the Baron Mór Lipót Herzog's collection that was also taken by the Nazis. His successors even sewed Hungary for lost property, however, it did not help to return the loss.